Carolina Pulled Pork BBQ Sandwiches, Carolina Style No-Bake Baked Beans and Coleslaw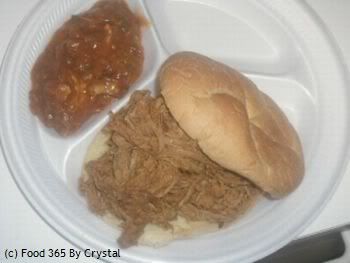 Coleslaw Not Pictured
Carolina Pulled Pork BBQ Sandwiches
·
1 batch of Carolina BBQ sauce (see below for recipe)
1.
Place pork tenderloin in slow cooker. Pour sauce over tenderloin.
2.
Cook on high for 5 hours.
3.
Take tenderloin out and shred it. Place back in slow cooker.
4.
Cook on low for 3 hours.
5.
Spoon pork onto buns and serve.
·
¾ c. distilled apple cider vinegar
1.
Mix all ingredients together.
Carolina Style No-Bake Baked Beans
·
4 cans (19.75 oz each) pork and beans
·
¾ c. Carolina BBQ sauce
·
¼ c. distilled apple cider vinegar
1.
Cut bacon into pieces and brown up in pan. DO NOT CRISP OR COMPLETELY COOK BACON. Remove from pan. Do not drain grease or clean pan.
2.
Dice up an onion and 2 green peppers.
3.
Add onion and peppers to bacon grease and cook.
4.
Transfer onions and peppers to large pot. Add bacon pieces.
5.
Add cans of pork and beans. Stir.
6.
Add in Carolina BBQ sauce. Stir. Then add in brown sugar and vinegar. Stir.
7.
Cook on low for 2 hours, stirring occasionally.
Coleslaw
1 head green cabbage, finely shredded

2 large carrots, finely shredded

¾ c. mayonnaise

2 Tbsp sour cream

2 Tbsp sugar, or to taste

2 Tbsp white vinegar

Salt and freshly ground pepper

1 tsp. ground cayenne pepper
1.
Combine the shredded cabbage and carrots in a large bowl.
2.
Whisk together the mayonnaise, sour cream, sugar, vinegar, salt, pepper, and cayenne pepper in a medium bowl.
3.
Add to the cabbage mixture. Mix well to combine and taste for seasoning; add more salt, pepper, or sugar if desired.