I had a chuck roast in the freezer that I had bought on sale last week. I usually use these for roast beef and veggies. I had on my menu plan this week for steak and cheese subs, but could not find a single box of the steak-umms in this city! So, I had to improvise and I must admit that my way is SO MUCH better! It got the vote of everyone.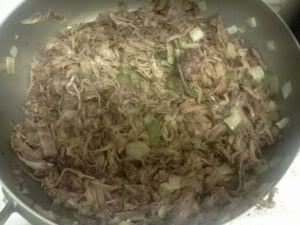 This picture does not do it justice! This was taken with my cell - phone.
Chuck Roast (I used 3 lbs for a family of 9)

Shredded cheese or cheese slice

Sub rolls or hamburger buns
Season the roast (I used creole seasoning and teryaki sauce. Unique and GOOD). Place in crock pot on High for 4 hours or until meat shreds apart.

Saute onion and green pepper in skillet. Add the shredded beef and heat.

Pile on rolls or buns with cheese and enjoy!